With summer around the corner, we're approaching camping season in a lot of areas. If you're going out camping or hiking, you should note that bags are an important piece of gear because they let you bring everything else you might need on your adventure. Some bags are also better suited to certain activities or types of trips. With that in mind, we'll explain some of those and give you bag recommendations to fit those niches.
Overnight Hiking Packs
As you hike more and more, you may begin to take on more difficult trails that take longer to explore. This means hiking into the evening, setting up camp overnight, and then continuing the next day. For this, you'll want a bag that's versatile. You want something with enough space to carry everything you'll need without being too cumbersome. While bags for overnight hiking are fairly expensive, their value comes from being able to hold and distribute heavier weight so that you can hike longer. Their efficiency in decreasing the physical strain of carrying your supplies makes them worth the investment. If you plan on overnight hiking, we recommend these two bags.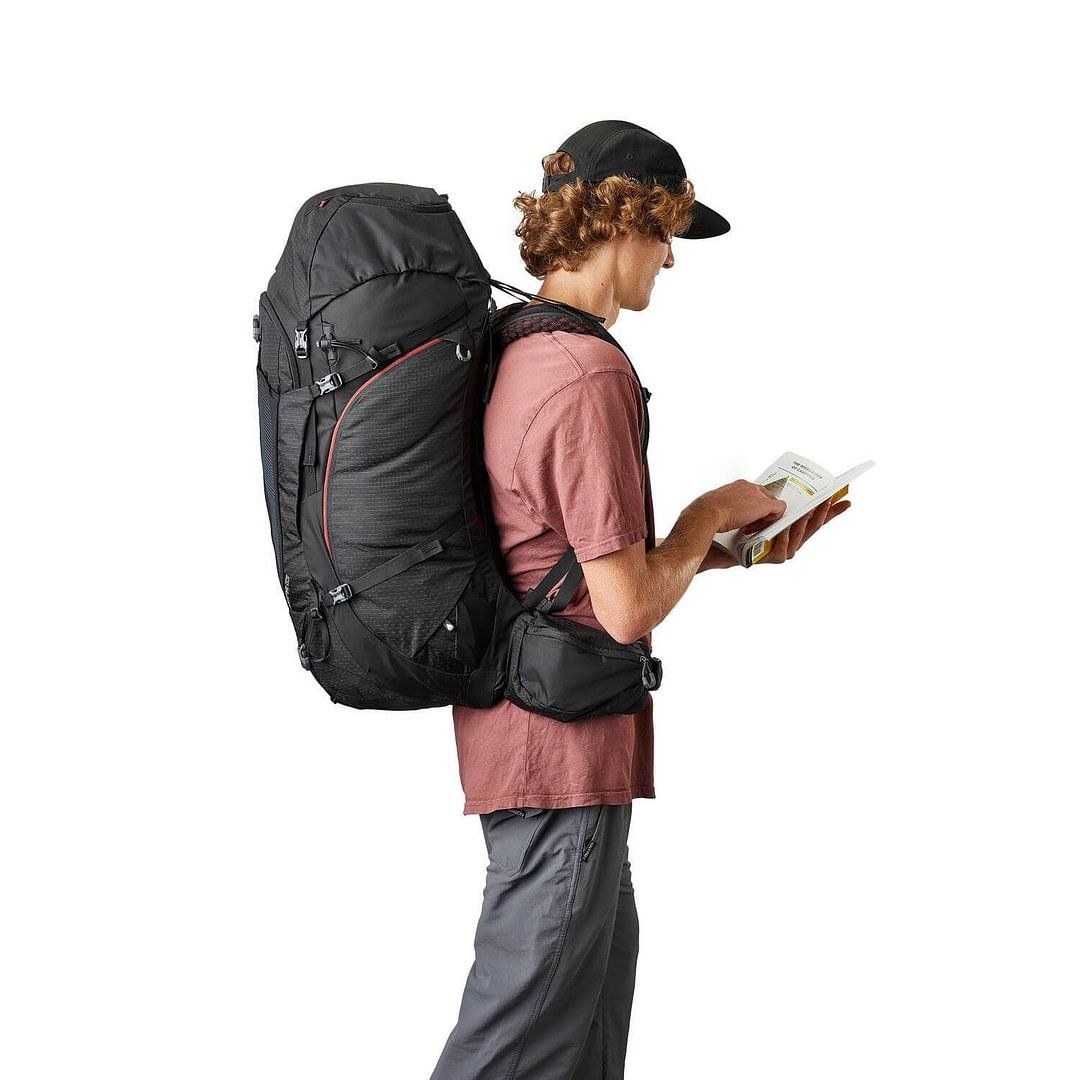 $299.95 – 4lbs 10.8oz – 45LB weight limit – The Katmai's padded design keeps your comfort in mind, making it easier to carry everything you need in the wilderness. The back panel incorporates ventilation, giving you breathability to avoid that uncomfortable sweaty feeling and the bacteria that comes with it. The bag's size, suspension system, and adjustability make it the perfect bag for adventurers of all sizes; you can even downsize to the 55 model if the 65 is too large. On a final and important note, the Katmai bag is made with recycled material and given a water repellent coat so that it is usable in a wide range of environments.
$300 – 4lbs 13oz – 40LBS – The Atmos AG's state of the art suspension system is one of the most effective, making it a must have for overnight hikers. Its design also includes compression straps to keep everything contained and streamlined. This allows for more mobility so that it's easier to maneuver through whatever environment you explore. The Atmos AG also has built in zipper hip-belt pockets for smaller items. Additionally, each bag includes a rain cover and a 3L hydration reservoir compartment so that your items remain dry and you can store extra water for those longer trips. It is built to help you last in the great outdoors.
Day packs
While night packs are meant to carry a lot more supplies, day packs do the opposite. Generally, they're small, lightweight bags without much structure so that they provide as little hindrance as possible while you're hiking. They're also useful as everyday bags to carry things like keys, wallets, phones, and even tablets. Overall, their minimalist designs make them great tools for a wide range of hikers. Here are our recommendations for day packs.
$60-$100 – 1lb 1oz – The Deuter Speedlite is advertised as being able to carry low to medium loads. Due to its size, there's a limit on the size of items you can pack in it, like laptops. It makes up for that with a V-shape design and adjustable straps to offer comfort to a wide range of people. It includes padded, air mesh shoulder straps so that the wearer doesn't suffer any discomfort in the area. There's also a removable hip belt to help distribute the weight you do carry in the bag. Although the Deuter Speedlite 20 is smaller, it includes a compartment designed to hold a 3L hydration system, allowing you to store extra water for longer hikes. Overall, this bag really shows that less is more.
$60 – The Osprey Daylite features a large panel-loading main compartment with mesh side pockets. Like a few of our earlier entries, this bag incorporates a space for a 3L hydration reservoir. The main compartment also offers enough space for a tablet or a 13 inch laptop, allowing you to potentially take your work wherever you go. The back panel is composed of mesh covered foam to strike the perfect balance between ventilation and comfort. With a mesh organizer and key clip, you also get smaller features that make packing all the necessities easier. With all those features, you can't go wrong with the Osprey Daylite for hiking or everyday use.
Duffel Bags
Duffel bags are a convenient, budget friendly middle ground. They're ideal if you require more storage space than day packs provide but don't need something as pricey as overnight hiking packs. Duffel bags are a good mix of both, practical for everyday use and with plenty of extra room for all your hiking needs. They are typically made so that you can carry them by hand, over the shoulder, or on your back, depending on what's most convenient for you. Here are two high quality duffel bags with other great features.
Columbia Men's Outdry Ex 60L Duffle
$129 – 33.7oz – The Columbia Men's Outdry Duffle offers adjustable straps to give a range of individuals the option to carry it by hand, slung over the shoulder, or like a backpack. This bag can also conveniently pack down into itself for easy storage. The Duffle also has four point haul handles & latch points to modify how you carry it or to attach things you may need, like bear spray. Its water-resistant zippers and polyester material will keep the contents inside protected from rain and other harsh environments. This is a solid piece of equipment that we highly recommend to those who are newer to camping, hiking, and other outdoor activities.
The North Face Base Camp Duffel M 71L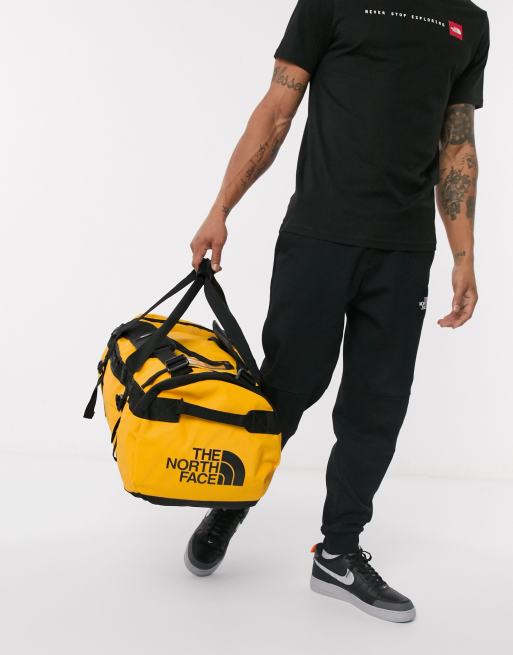 $149 – 3lb 9.1oz – One of the first things to note about the North Face Base Camp Duffel bag is that it comes in various sizes. Having options is always a good thing when you're getting ready to go out hiking. This product's shoulder straps are designed to fit comfortably and allow for backpack carry with minimal twisting. This duffel bag also includes two internal mesh pockets to help you sort out and organize smaller items. In addition to that, this bag is equipped with compression straps to make storing & hiking more convenient. Like other bags on this list, the North Face Duffel is made from recycled, water-resistant materials and boasts durability as one of its many features. This Duffel bag is another reliable piece of equipment you should consider getting if you want the best.
Stylish bags
In our last category of bags, we have more stylish options. If you want to make a statement, capture a certain aesthetic, or have a colorful personality that you have to show off, these types of bags might be for you. Some manufacturers design their bags with fashion in mind while still retaining functionionality. Here are two great options if you're looking for more than just a typical hiking bag.
$80 – 11oz – The creators of the Cotopaxi Batac Pack note that this pack is as stowable and lightweight as its smaller, 16L version. Made from repurposed excess fabric, the Batac is not only stylish, but good for the environment. The bag offers a range of color palettes as each piece is designed and sewn to be unique from the rest. The Batac also has numerous pockets to help you store various small items inside as well as a large central space. As with other bags we've reviewed, there are mesh shoulder straps to make carrying this pack on your back comfortable. This pack is definitely worth the investment if you want to make a statement on your next hike.
$65 – 1lb 2oz – Unlike other bags on this list, the Kelty Hyphen Pack can be held and used like a Tote. As with others, it has comfortable shoulder straps for a backpack-like feel. That kind of versatility gives this bag some unique utility. As one of the more affordable entries on this list, this bag comes in a variety of colors & designs, making it a very good beginner pack. With its size, comfort, and carrying capacity, it's great everyday use in addition to camping and hiking. Even with its storage space, reviews note that it works well as a carry-on bag for plane trips. It's simple, sleek, and you can't ask for much more in a good bag.